Publisher:

Nintendo

Release Date:

Jan 11, 2019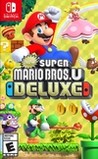 Summary:

Join Mario, Luigi, and pals for single-player or multiplayer fun anytime, anywhere. Take on two family-friendly, side-scrolling adventures with up to three friends* as you try to save the Mushroom Kingdom. Includes the New Super Mario Bros. U and harder, faster New Super Luigi U games—both

Join Mario, Luigi, and pals for single-player or multiplayer fun anytime, anywhere. Take on two family-friendly, side-scrolling adventures with up to three friends* as you try to save the Mushroom Kingdom. Includes the New Super Mario Bros. U and harder, faster New Super Luigi U games—both of which include Nabbit and Toadette as playable characters. Two games in one. Simple, straightforward controls, new playable characters optimized for younger and less-experienced players, and a wealth of bonus content—like a Hints gallery and helpful reference videos**—make this a perfect choice for anyone looking to introduce their family to the wonderful world of Mario. All a player needs is one Joy-Con controller, so two people can team up right out of the box! Tackle 164 platforming courses in the two main game modes and enjoy extra replayability with three additional game modes in which you can also play as a Mii character: Challenges, Boost Rush, and Coin Battle.

…

Expand
Developer:

Nintendo

Genre(s):

Action

,

Platformer

,

2D

# of players:

No Online Multiplayer

Cheats:

On GameFAQs

Rating:

E
Please enter your birth date to watch this video:
You are not allowed to view this material at this time.
New Super Mario Bros. U Deluxe - Official Announcement Trailer | Nintendo Switch
New Super Mario Bros. U Deluxe is a perfect addition to the Switch's ever-=growing library of excellent games. A huge amount of content, coupled with perfectly executed tight controls makes this entry a must play for any and all fans of the genre.

One of the best Wii U games gets a wonderful Switch remaster that brings to life its multiplayer mayhem better than ever before.

If you've played the game on the Wii U to completion, then I'd recommend passing on this one as there is little new here outside of a stable framerate, Toadette, and the highly overrated HD rumble. But if you skipped the Wii U and loved Super Mario Bros. 3, then this is a must play. It's challenging (there's even a challenge mode for the True Gamers(tm)), it controls great, and it pays homage while still managing to expand on the series gameplay with a few clever new gimmicks, like baby Yoshi abilities.

New Super Mario Bros U Deluxe is another great Wii U game to make its way to the Nintendo Switch. Despite the fact that it's full priced and feels a little bit later than it should have been, it's still a great game that would make a great addition to any collection.

These aren't exceptional games, but they remain great platformers. And the universal multiplayer works really well with Switch's joy-cons. We recommend New Super Mario Bros U. Deluxe to everyone that hasn't played the original titles.

New Super Mario Bros. U Deluxe makes its debut to the Nintendo Switch, after almost 6 years of slumber on the Wii U. The game is, without a doubt, a thrilling platformer that manages to blend a cast of loving 3D characters into stunning 2D levels, yet fails to deliver enough additional content to justify the word "deluxe" in its name.

The further you delve into New Super Mario Bros U, the more rewarding it becomes. Its final worlds hold some of its best levels, and there are plenty of fun secrets to enliven the second or third attempt at a level. But it's hard to summon the motivation to devote that much time to it. It's typically well-made and enjoyable, but next to the best of the Mario series, it's unmemorable.
It's a wonderful option if you didn't play this game before. Great platformer, lots of secrets, different environments, great for multiplayer

It's a wonderful option if you didn't play this game before. Great platformer, lots of secrets, different environments, great for multiplayer because it's really fun.

…

Expand

Ignore the "bad ratings". People are just complaining to complain.

The game is perfectly fine, great side scroller and amazingly fun withIgnore the "bad ratings". People are just complaining to complain.

The game is perfectly fine, great side scroller and amazingly fun with Couch Co-Op up to 4 people.

…

Expand

Este juego es excelente, quien dice lo contrario perdio la magia de jugar videojuegos o ni siquiera lo ha jugado, es muy entrenido y pienso

Este juego es excelente, quien dice lo contrario perdio la magia de jugar videojuegos o ni siquiera lo ha jugado, es muy entrenido y pienso que a todos los que como yo no compraron la Wii U deben darnos la oportunidad de jugar todos los grandes lanzamientos de esa consola que nunca me acabo de convencer. El proximo que espero es Super Mario 3D World.

…

Expand

Let me just say, this game is a blast and a half. I haven't beaten the game in a while, but I played it again today and just wanted to write a

Let me just say, this game is a blast and a half. I haven't beaten the game in a while, but I played it again today and just wanted to write a positive review on it.

I really like the level design a lot. Complain all you want about it being too linear, but it's a 2D platformer. There's not really a way to make it NOT linear. Platforming is what Mario is all about, and these levels make the platforming the most fun I've played in a long time. The levels are crafted in a way that makes it not too easy, but not frustratingly difficult either. The Star Coins are all hiding or require skilled jumps to reach. The water levels are Hitler's favorite.

The multiplayer is so much fun in this game. You can work cooperatively with your friends to complete levels easier or make it five times harder by fighting your friends all the way to the finish to see who can finish the game with the most lives. It's just such a blast to play this game with your friends.

The brand new HD graphics are absolutely splendid. 2D Mario has never looked this good before. Some of the levels just look so amazing. The first underground level with the crystal moving blocks just couldn't have possibly looked any better, the water levels that aren't actually underwater are some of the most beautiful Mario levels I've ever seen, that one level that's a painting, this list goes on and on. Sure it's nothing in comparison to Mario Kart 8, but is great nonetheless.

Mario's controls could use some improving, but are still excellent. The New Super Mario games made the controls feel exactly how you would expect the godsend that are Mario's 3D to feel in 2D. The triple jump is so nice to land trying to get that flagpole 1-UP and I can barely even remember 2D Mario without the ground pound. When using a Wii Remote I don't have to hit all the buttons on the controller if I forgot a button because everything just makes sense. I love moving around in this game.

There aren't many new power ups, but the power ups we do have are some pretty great stuff. In Super Mario Galaxy they absolutely butchered the Fire Flower making it a timed power up, so I'm glad to say that it's back in action, killing Koopas better than ever. The Ice Flower is a great alternative that doesn't instantly kill the enemy, but can kill those pesky Dry Bones you might be having trouble with. The brand new Acorn power up gives you the ability to transform into Flying Squirrel Mario. It gives you the ability to glide and do a huge second jump. Oh yeah, it can also cling to walls for a short period of time. There's also the penguin power up, which is just the Ice Flower but you can slide on your stomach.

The story is nothing much, as the tradition goes with Mario games, but it has more depth than the rest of the 2D Mario games. Once again Bowser kidnaps Princess Peach, but this time Bowser takes over Peach's Castle and sends Mario flying all the way to Peach's Castle to save her. Over time Kamek enshrouds the castle with fog, and it is cover in a tornado of fog by the time you get there. When you go into the fog the water surrounding the castle is now lava and the music is a remixed Peach's Castle Theme from Mario 64 which is a nice touch. The bosses are the Koopalings once again and are set up in the same order as Super Mario Bros 3, Boom Boom and all. It even plays a remix of the Fortress Battle Theme from Mario 3.

I know what you're thinking. "If you liked the game so much, why did you give it an 8 instead of a 10?" Well, there are still things I dislike about it. World 1 is just full of boring grass levels that look the same, it has the same style as the last three 2D Marios (albeit with HD graphics this time), it has the same bubbly music, a similar lackluster story, and only brought a small amount of new content from the Wii Mario. I really wish this wasn't the case because I like this game so much, but sadly, it was. This game could've improved so much if it had some new style, but otherwise it's still a great game and you should definitely give it a shot if you enjoy 2D platformers.

…

Expand

This game is just like every other new super mario bros game: bland. There is just nothing special about this game, terrible art and bland

This game is just like every other new super mario bros game: bland. There is just nothing special about this game, terrible art and bland music make it ugly, and none of the gameplay is new or unique.

…

Expand

This is a port of an easy and boring game made for children from a series that panders to the 2D nostalgia fanboys 'nuff said.
What's moreThis is a port of an easy and boring game made for children from a series that panders to the 2D nostalgia fanboys 'nuff said.
What's more insulting is the fact it's a damn port instead of being a new game. Also since we got two new uninteresting playable characters, why can't we get Wario, Daisy, Waluigi or even DK? Even Super Mario Run the mobile app has more playable characters and it includes Peach as a playable character.
Avoid at all costs!

…

Expand

Another awful Nintendo game! Seems to be a trend for the past 15 years for Nintendone