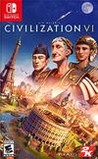 Summary:

Civilization VI offers new ways to interact with your world, expand your empire across the map, advance your culture, and compete against historys greatest leaders to build a civilization that will stand the test of time. Play as one of 24 different leaders from various countries around the

Civilization VI offers new ways to interact with your world, expand your empire across the map, advance your culture, and compete against historys greatest leaders to build a civilization that will stand the test of time. Play as one of 24 different leaders from various countries around the world and throughout history. Build an empire of lucrative trade routes with Cleopatra of Egypt, flex the military might of your legions with Trajan of Rome, or develop a powerhouse of culture with Hojo Tokimune of Japan. Each of the leaders can be played any way you prefer, with unique abilities, units, and infrastructure in their quest for victory.

…

Expand
Developer:

Aspyr

Genre(s):

Strategy

,

Turn-Based

,

4X

# of players:

No Online Multiplayer

Cheats:

On GameFAQs

Rating:

E10+
Please enter your birth date to watch this video:
You are not allowed to view this material at this time.
Civilization VI - Nintendo Switch Announcement Trailer
I already know that this will be my most-played game on the Switch over the longer term. Once you start playing Civilization, it has the most incredible ability to make you lose all sense of time, and desire to play anything else.

It's Civilization VI on the Nintendo Switch, practically immaculate and able to run even better than it used to do on certain rattling laptops.

The Switch version is just the base game, but that's more than OK. There's plenty to sink your teeth into, providing hours upon hours of unique experiences, accompanied by a divine soundtrack to really get you in the mood for building nations. Civ VI is a titan of a game and well worth your time, even if you've already spent hours on the PC version, because, now it's portable, which is potentially dangerous to those who have jobs.

A blend of touchscreen controls and physical buttons makes this one of the most convenient ways to play Civilization VI, and the portability makes it the best version to play on the go. Recommended to everyone who's looking to build a nation or take over the world.

It's clear to see that Civ 6 is going to be one of my most-played Switch games, because that's just the kind of game it is. You can't say no to one more turn, and I can already foresee many times where my feet fall asleep in the bathroom.

Lack of several DLCs can be overlooked, impossibility to buy the big Rise & Fall expansion less so, and the butchered multiplayer options are downright annoying. Still, this is a good port of a brilliant game which is a perfect fit for Nintendo Switch.

The possibility of playing Sid Meier's Civilization VI wherever you are is a good incentive to buy this great title that is perfectly adapted to Nintendo Switch, although it is necessary to highlight the lack of online multiplayer.
Long time fans of Civ who don't own top tier phones and tablets, should be really juiced a the chance to play a fully fledged Civ game on the

Long time fans of Civ who don't own top tier phones and tablets, should be really juiced a the chance to play a fully fledged Civ game on the go.

Civ 6 brings in a lot of new ideas and bright and clear art style that suits it all very well. The new district system and the options for diplomacy are a cut about what any previous Civ game offered in their initial releases. They allow for more personal and customized cities. I always felt that in 4 and 5 that most of my cities would end up with all the same buildings, cause there wasn't much keeping you from just building every possible upgrade. This made each city in previous games feel less unique.

The Switch manages to run the game quite well. My experience with Civ 4 and 5 was on a laptop that could run the games, but very choppily. This Switch version does really fine job of staying playable despite running a bit slower once you've hit turn 400 on a Huge map.

I just hope the game gets the rest of the DLC.

Never played Civ in multiplayer so its lack of online has no bearing on my enjoyment.

I've clocked in 85 hours already and will undoubtedly continue to pop this sucker in over the next year. You want deep city world simulation. Get on it.

…

Expand

This is the first Civ game I've played. I tried to dabble with Civ 3 decades ago but I didn't get the hang of it. Civ 6 on the Switch though

This is the first Civ game I've played. I tried to dabble with Civ 3 decades ago but I didn't get the hang of it. Civ 6 on the Switch though is PERFECT. I like the balance and mechanics and I simply cannot put it down. Being on a handheld it's easy to pick up and play again where I left off even during short breaks. The rest of the time in between though all I think about is my city. If you're having second thoughts let this review be the one to sway you into getting it.

…

Expand

Это лучшая Цива из всх Цив ! Поставил 9 , потому что дипломатия трешовая , как всегда.

Это лучшая Цива из всх Цив ! Поставил 9 , потому что дипломатия трешовая , как всегда.

It's a great port. Sure, it's missing several multiplayer features but the controls, graphics and gameplay work exceedingly well on the Switch.

Very surprised it is NOT some watered down, kiddy crap like they did on PS3. It's an actual Civilization game on a console. I'm enjoying it

Very surprised it is NOT some watered down, kiddy crap like they did on PS3. It's an actual Civilization game on a console. I'm enjoying it very much, and have little to complain about.
I have had the game crash on me a couple times though, which means something isn't quite right, but it's not happening a lot. It auto saves every 3 turns anyway so the damage was minimal.
Civ IV is still my favourite; V was a game I just wasn't feeling as much, and VI is somewhere above V, but slightly below IV in my opinion overall.
I only play single player, so my score is based on that. If you're buying this for multiplayer, I wouldn't recommend it based on what other people are saying here.
This one is hard to put down. I've gone into work like a bag of dogs**t all week from staying up too late with this one. It's a total time warp situation, the hours just fly by. Single player is a total blast, so if that's what you're after and you know what kind of game this is, them go for it.

…

Expand

Almost finished with my game on standard mode. Picked it up last night at 9 and just like pc I have been lost in it till about 3 am and then

Almost finished with my game on standard mode. Picked it up last night at 9 and just like pc I have been lost in it till about 3 am and then im playing in my office.

Pretty happy about the purchase. I had concerns it would be watered down like xbox 360 civ revolution. But we actually got a full port over to the switch. Maps arent smaller, all civs are there. It sucks that we dont have the Rise and Fall DLC but I think in time it will come.

My second concern was the controls, I will say that it will take getting use to but you can use the bumpers to zoom in out, pinch the screen aswell like tablets and phones. Joy sticks move around the map and d-pad can be used to navigate menus. You can move units with the touch screen or with the thumbstick and A button. It works really well in handheld mode i have yet to try out dock mode.

3rd concern I had was performance. The cartoony graphics works well with the system and I didnt experience any slow downs. My system didnt get too hot from extended play either. later turns wasnt bad, I expected it to bog down the system but It performed really well on the switch.

I gave it an 8 for 2 reasons.
1. I really wish they had released the DLC. Like I understand they probably want to test the waters and all but it would have been really cool to get like an ultimate edition with the DLC or have the DLC available for download.

2. this is minor to me because I hardly play multiplayer and i think civ is really mostly played single player. But I do understand there are some that do play multiplayer and it sucks there isnt online multiplayer but local with 4 people.

…

Expand

- not all the DLCs are included
- no online mode
- NO HOT SEAT LOCAL MULTIPLAYER, it's the only reason I bought this game and it is not- not all the DLCs are included
- no online mode
- NO HOT SEAT LOCAL MULTIPLAYER, it's the only reason I bought this game and it is not included even though it is in all the other platforms...

The switch version of this game is a rip-off, do not buy this game.

…

Expand