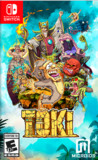 Summary:

Toki sets off on a new adventure! The cult action/platform game originally released on arcade machines in 1989 is back with a super-simian new version, featuring all-new hand-drawn graphics and re-orchestrated music. Toki the warrior lived peacefully in the jungle with his sweetheart Miho.

Toki sets off on a new adventure! The cult action/platform game originally released on arcade machines in 1989 is back with a super-simian new version, featuring all-new hand-drawn graphics and re-orchestrated music. Toki the warrior lived peacefully in the jungle with his sweetheart Miho. Appearing out of nowhere, the terrifying voodoo sorcerer Vookimedlo and heinous demon Bashtar kidnap Miho and turn the poor Toki into a chimpanzee! Unfortunately for his sweetheart, he has become a hairy, lethargic ape...

…

Expand
Developer:

Microids

Genre(s):

Action

,

Platformer

,

2D

# of players:

No Online Multiplayer

Cheats:

On GameFAQs

Rating:

E10+
Toki is fun and wacky, but a flawed game in many regards. While I enjoy the world and basic gameplay elements there are cheap deaths and the new graphics can make it hard to tell what's on the same plane as the character at times. The different difficulty settings allow players to tailor the experience, which is good, but I don't see myself often trying something other than Easy since this is an updated arcade title. Some of the general flaws can be attributed to the original game, so the developers actually did nail it when they made this updated version. That said, Toki fans will get a kick out of this remaster and if you like weird, old arcade games you probably will, too.

Although the lack of extra content and option is alarming, Toki still is a great game, and the new visuals make it more enjoyable than ever.

A beautiful remaster of the original Toki, with the same great elements and flaws of the 1989 arcade. Short, difficult and fun. We love the retro-collector edition, which includes a wooden cabinet replica.

Toki is a visually successful remaster of a game dear to a lot of quite old gamers. It hasn't changed a lot, which can be good for arcade enthusiasts but frustrating for those who are not receptive to the proposition, and offers nothing more but it's fine.

Interesting remake of one of the most iconic 2D run and gun classic arcade games from the 90s era.

Almost 30 years later Toki returns with a remake as challenging and fun as ever, but with a renewed audiovisual section that will delight all types of players.
Better than the original ?
May be less difficult if you play as a novice but still thrilling.. Graphics are terrific and the music is justBetter than the original ?
May be less difficult if you play as a novice but still thrilling.. Graphics are terrific and the music is just perfect !
I love the collector version and the cabinet is a great idea !

…

Expand

TOKI remake is a game that you love, or hate. Like the original.
The1989's game had its problems: a general slowness in the movements of theTOKI remake is a game that you love, or hate. Like the original.
The1989's game had its problems: a general slowness in the movements of the ape, with a difficulty not-so-well balanced. The Microids release shows love to the original, preserving merits and defects. The new visuals are excellent, you feel to "play a cartoon". It's simple: If you loved the old TOKI, probably you'll love the new TOKI. For me, it deserves an "8/10".
P.S. I bought the (Retro)Collector Edition, easily one of the best collections seen around. Stickers, comic, small wooden case, and the game cartridge, for 40,00€ circa. That's a great value.
The digital delivery version ISN'T so great, so... I advise you to put money on retail.

…

Expand

It's a short arcade game with stunning HD visuals and presentation. Sadly there's no additional content (extras, save states, original

It's a short arcade game with stunning HD visuals and presentation. Sadly there's no additional content (extras, save states, original graphics option, etc) for this remaster, but only the arcade experience in different difficulty levels.
It's a nice game you'll love if you liked the original and the amazing physical edition with a wooden arcade cabinet for the switch is certainly a welcome addition.

…

Expand

Эта игра очень скушная и неинтересная 1

Эта игра очень скушная и неинтересная 1