Network:

Netflix

Series Premiere Date:

Sep 29, 2017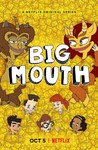 Summary:

The second season of the animated comedy introduces The Shame Wizard (David Thewlis), the enemy of the Hormone Monster (Nick Kroll) and a new change to Gina (Gina Rodriguez) causes different reactions from the seventh graders.

Genre(s):

Comedy

,

Animation
Season 2 premiere date:

Oct 5, 2018

Episode Length:

30
The second season officially confirms that Big Mouth, co-created by Nick Kroll, Andrew Goldberg, Mark Levin, and Jennifer Flackett, deserves a spot in the Coming of Sexual Age Hall of Fame right next to Judy Blume books and every incarnation of Degrassi. ... The voice-work on the series also remains top notch. Everyone is so, so good that there's no way to pick an MVP. ... This series deserves a Peabody Award.

Big Mouth Season 2 cuts uncomfortably close to the quick at times and really makes you feel like you're reliving your own adolescence. Luckily, the show is sweet enough to take some of the sting out of the close-to-home moments, but earnest enough to make you feel a real connection with these poor unfortunate characters.

Nearly all of Big Mouth's main characters are multi-dimensional in all ways except their animation, but season 2 reveals Jessi to be possibly the most substantive.

Big Mouth's general lack of shame and its love of a good anatomical reference is likely to keep the show from getting as big as it ought to be, but it's shown that it deserves to be included in any conversation about TV's animated greats. And the new season demonstrates that Big Mouth is capable of growing alongside its characters.

In its second season, Big Mouth, unlike junior high, has only gotten better.

A delightful second season. ... The voice cast is overflowing with performances so sharp and indelible, it makes it hard to look at the actors in other roles without thinking of them being menaced by disembodied furry penises. As Jessi's Hormone Monstress, Maya Rudolph remains first among equals, perfectly capturing the way that puberty descends upon girls differently than boys.

The voice cast is one of the best on TV, but every episode is stolen by Maya Rudolph, who voices the female version of the Hormone Monster, and makes me laugh every single time. ... We spend way too much time with Coach Steve in season two for my taste--but this is a fearless, clever comedy more often than it's not.
OMG. I really enjoyed season 1, but season 2 is even better. A terrific, original show that doesn't miss a beat and is shockingly hilarious

OMG. I really enjoyed season 1, but season 2 is even better. A terrific, original show that doesn't miss a beat and is shockingly hilarious from beginning to end. Nick Kroll is a comedic genius,

…

Expand

This second season improves vastly on the first season by explaining a lot of the lore.

Puberty, Animated. It's the best idea ever. Who hasn't been through these things? Unapologetic-ally raunchy, funny and incredibly empathetic.

Puberty, Animated. It's the best idea ever. Who hasn't been through these things? Unapologetic-ally raunchy, funny and incredibly empathetic. The voice acting delivers!

…

Expand

It is a little hard to figure out the demographic they're aiming for with Big Mouth. It is obviously an "adult cartoon", but while that phrase

It is a little hard to figure out the demographic they're aiming for with Big Mouth. It is obviously an "adult cartoon", but while that phrase is usually employed (with a few notable exceptions like Bojack) to mean that the target audience is straight teenage boys. With Big Mouth it's different, the show effectively provides an image of puberty that is effectively intersectional. It shows an perhaps grossly unflinching look at puberty, and then waxes on just enough nostalgia to make it a fond look back at our collective formative years whoever we may be. But this isn't the audience either, or at least not the whole audience, as season two makes very clear, Big Mouth is aware that it will be watched be young adolescents, with their parents' permission or not, and makes sure to provide an entire episode teaching its younger viewers about safe sex and planned parenthood. Overall the show does a massively good job at managing to be crude while still driving home important lessons of healthy sexual behavior, with the characters' bad behaviours never going unpunished...oh, and of course, it is hilariously funny.

…

Expand

Second season is less credible, less funny and generally it is... Worse. Big Mouth was huge surprise for me, but this? i'm feeling like i've

Second season is less credible, less funny and generally it is... Worse. Big Mouth was huge surprise for me, but this? i'm feeling like i've saw already everything.

…

Expand

The idea is great, season 1 was also very enjoyably. But season 2, it's just too much to handle! But I do like the art style of it.

The show continues to be distateful. Non of the characters are likeable and the art style is atrocious. The comedy never hits. I don't have a

The show continues to be distateful. Non of the characters are likeable and the art style is atrocious. The comedy never hits. I don't have a problem with graphic comedy, but only when its done right. Big Mouth, does not do it right.

…

Expand