Network:

Starz

Series Premiere Date:

Jan 21, 2018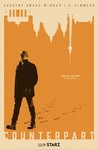 Summary:

Howard Silk aka Howard Alpha (J.K. Simmons) is stuck in Echo, a black site, while Howard Prime (J.K. Simmons) is in our world working at the Office of Interchange and taking care of Howard's wife, Emily (Olivia Williams).

Genre(s):

Drama

,

Suspense

,

Science Fiction
Season 2 premiere date:

Dec 9, 2018

Episode Length:

60
Please enter your birth date to watch this video:
You are not allowed to view this material at this time.
Counterpart has grown beyond its premise and is still one of the best shows on television, even if we don't get the Howards in the same room together.

The show is so good at grounding its drama that somehow the idea of second, parallel reality just seems like a very normal, possible thing.

Early episodes don't leap off the small screen like they did last year (which is understandable, having lost the element of uniqueness) and a proper evaluation will have to wait a little bit longer. That said, all the episodes are strong.

Beyond its artfully chilly atmosphere and its surprisingly plausible and suspenseful narrative, the main attraction in Season 2 remains J.K. Simmons's crafty, quiet portrayal of the two spies named Howard Silk.

In short, there's a lot to track, which can sometimes overwhelm why, in fact, viewers would bother keeping up. But more often than not, Marks finds empathy and momentum at exactly the moments you might feel lost, and, aided by crisp direction from Charles Martin and Kyle Patrick Alvarez, "Counterpart" lends enough emotional oomph to its expanding story to justify further investment in a smart, promising series.

I wish I could watch a Prime-world version of Counterpart. But we do not have two worlds, so instead I will keep watching the version of Counterpart we do have, and enjoy it for the good things it offers, like Simmons's performance, the moments of plot surprise, and the many, many beautiful winter coats.

Every now and then, Simmons will be back onscreen working opposite Williams or, as a new friend our Howard makes in his travels, James Cromwell, and Counterpart will spark back to life again. But far too often, it feels like a star vehicle determined to prove it's anything but--and squandering its most valuable resource as a result.
We rank the best new television series (and miniseries) of 2018 at midyear.