| A Discovery of Witches: Season 1 | Deadly Class: Season 1 | Roswell, New Mexico: Season 1 |
| --- | --- | --- |
| | | |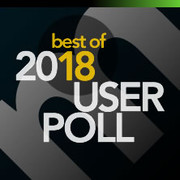 See which movies, albums, games, and TV shows ranked among our users' favorites in 2018.
1.

Making a Murderer: Season 2

Release Date:

October 19, 2018

Moira Demos and Laura Ricciardi return with another 10 episodes as Steven Avery's lawyer Kathleen Zellner and (Avery's nephew) Brendan Dassey's lawyers Laura Nirider and Steven Drizin work on reversing their convictions.

2.

Better Call Saul: Season 4

Release Date:

August 6, 2018

A death causes Jimmy to put his relationship with Kim and his career as a lawyer in danger as the Saul Goodman seen on Breaking Bad begins to emerge.

3.

Atypical: Season 2

Release Date:

August 7, 2018

The coming-of-age comedy series continues with Sam becoming more independent, dealing with high school and dating.

4.

Timeless (2016): Season 3

Release Date:

December 20, 2018

When a criminal steals a time machine to change the America we know by editing history, a misfit team must do the same to try to stop him. Can they outsmart the criminal, or is history at risk?

5.

Marvel's Daredevil: Season 3

Release Date:

October 19, 2018

The third season of the superhero drama is expected to have elements from the "Born Again" comic storyline with a clash between Matt Murdock/Daredevil (Charlie Cox) and Wilson Fisk/Kingpin (Vincent D'Onofrio).

6.

BoJack Horseman: Season 5

Release Date:

September 14, 2018

BoJack stars in Princess Carolyn's TV show Philbert and Diane travels to Vietnam in the fifth season of the animated comedy.

7.

Travelers: Season 3

Release Date:

December 14, 2018

Grant MacLaren (McCormack) and his fellow Travelers deal with the Faction and locate Traveler 001 to save the world from a deadly future.

8.

Norm MacDonald Has a Show: Season 1

Release Date:

September 14, 2018

The hour-long comedic talk show with the Saturday Night Live alumni and Adam Eget features interviews with Drew Barrymore, Chevy Chase, David Letterman, Jane Fonda, Michael Keaton, Lorne Michaels, Billy Joe Shaver, Judy Sheindlin, M. Night Shyamalan, and David Spade.

9.

Dynasty (2017): Season 2

Release Date:

October 12, 2018

A woman (Ana-Brenda Contreras) arrives claiming to be the real Cristal in the second season of the reboot of the 1980s Aaron Spelling nighttime soap.

10.

My Brilliant Friend: Season 1

Release Date:

November 18, 2018

The Italian-language adaptation of Elena Ferrante's novels begins a coming-of-age story about childhood friends Elena (Elisa Del Genio) and Lila (Ludovica Nasti) in 1950s Naples.